Solo Ads Sellers in the Social Media Niche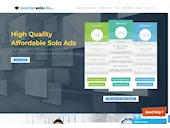 1. SmarterSoloAds.com
Our Solo Ads will change your business.How? Because we target our clicks to your offer to get you the highest possible conversions and ROI for your Investment.
https://smartersoloads.com/
To find blogs in this niche, visit our sister site FindABlog.Net.
Niche Research
About the Social Media Niche
Social media are interactive technologies that allow the creation or sharing/exchange of information, ideas, career interests, and other forms of expression via virtual communities and networks. While challenges to the definition of social media arise due to the broad variety of stand-alone and built-in social-media services currently available, there are some common features: 1. Social media are interactive Web 2.0 Internet-based applications. 2. User-generated content—such as text posts or comments, digital photos or videos, and data generated through all online interactions—is the lifeblood of social media. 3. Users create service-specific profiles for the website or app that are designed and maintained by the social-media organization. 4. Social media helps the development of online social networks by connecting a user's profile with those of other individuals or groups. Source: WikiPedia
Saki Says...
Yikes - this is a VERY competitive niche but if you had a blog in the social media niche you could potentially make a lot of money!

Interpreting the Results
The Keyword Competition Tool shows two values: a Competition Score and a Popularity Score.
Competition Score is an estimation of how much competition there is in this niche and how difficult it might be to get traffic from the major search engines if you had a blog in this niche. In other words it is an assessment of how difficult it would be to get in the top 10 search results for that keyword. It is expressed as a percentage (100% = most competitive).
Niche Saturation Score is an estimation of how many bloggers are actively blogging in this particular niche. It is also expressed as a percentage (100% = lots of people blogging about this niche, 0% = almost nobody is blogging about this niche). More show that bloggers are much more active in this niche. If you see mostly then it is likely that there aren't many bloggers blogging about this particular niche. This is definitely a good thing, as you will have less competition to worry about. However, it's likely this niche may be less suitable for running solo ads, as you may struggle to find enough related lists on which to run your offers.