Solo Ads Sellers in the Spirituality Niche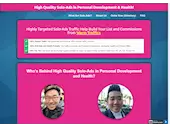 To find blogs in this niche, visit our sister site FindABlog.Net.
Niche Research
About the Spirituality Niche
The meaning of spirituality has developed and expanded over time, and various connotations can be found alongside each other. Traditionally, spirituality referred to a religious process of re-formation which aims to recover the original shape of man, oriented at the image of God as exemplified by the founders and sacred texts of the religions of the world. The term was used within early Christianity to refer to a life oriented toward the Holy Spirit and broadened during the Late Middle Ages to include mental aspects of life. In modern times, the term both spread to other religious traditions and broadened to refer to a wider range of experience, including a range of esoteric traditions and religious traditions. Modern usages tend to refer to a subjective experience of a sacred dimension and the deepest values and meanings by which people live, often in a context separate from organized religious institutions. Source: WikiPedia
Saki Says...
Yikes - this is a VERY competitive niche but if you had a blog in the spirituality niche you could potentially make a lot of money!

Interpreting the Results
The Keyword Competition Tool shows two values: a Competition Score and a Popularity Score.
Competition Score is an estimation of how much competition there is in this niche and how difficult it might be to get traffic from the major search engines if you had a blog in this niche. In other words it is an assessment of how difficult it would be to get in the top 10 search results for that keyword. It is expressed as a percentage (100% = most competitive).
Niche Saturation Score is an estimation of how many bloggers are actively blogging in this particular niche. It is also expressed as a percentage (100% = lots of people blogging about this niche, 0% = almost nobody is blogging about this niche). More show that bloggers are much more active in this niche. If you see mostly then it is likely that there aren't many bloggers blogging about this particular niche. This is definitely a good thing, as you will have less competition to worry about. However, it's likely this niche may be less suitable for running solo ads, as you may struggle to find enough related lists on which to run your offers.